Federated Logic Conference 2022 - ICLP'22 2nd Workshop on Goal-Directed Execution Of Answer Set Programs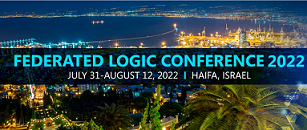 During the past forty years, there has been extensive, continuous, and growing interaction between logic and computer science. In many respects, logic provides computer science with a unifying foundational framework and modeling tools.
In fact, logic has been called "the calculus of computer science", playing a crucial role in diverse areas such as artificial intelligence, computational complexity, distributed computing, database systems, hardware design, programming languages, and software engineering.
The Federated Logic Conference brings together several leading international conferences related to mathematical logic and computer science in both logic and verification. 
CCLAW participated in the 2nd workshop on Goal-directed Execution of Answer Set Programs of the conference, with Senior Research Engineer, Avishkar Mahajan, presenting a paper on Automating Defeasible Reasoning in Law with Answer Set Programming. Others who worked on the paper include Centre Director, Assistant Professor Lim How Khang, Principal Research Scientist, Martin Strecker and Principal Investigator, Wong Meng Weng. 
Associated Speaker & Theme