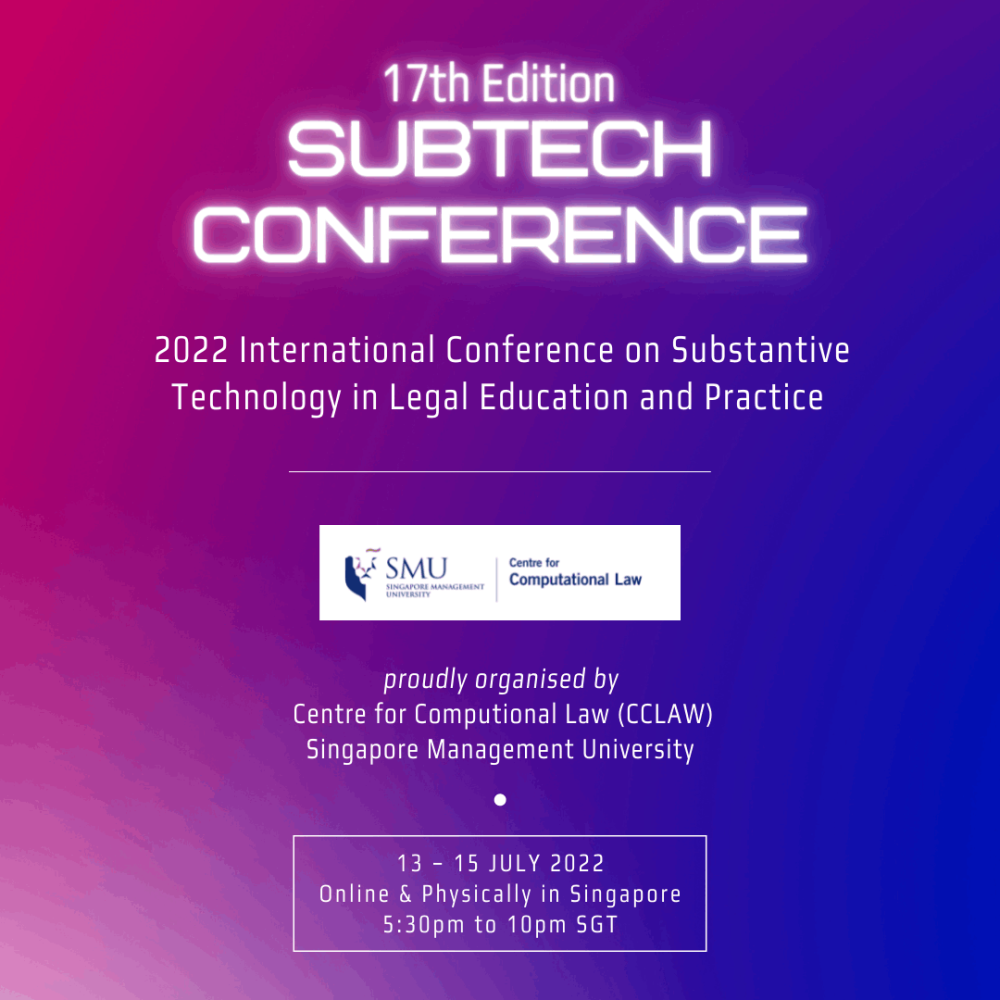 The SMU Centre for Computational Law (CCLAW) will be hosting the 17th Edition of the International Conference on Substantive Technology in Legal Education and Practice aka SubTech. This is a biennial conference exploring substantive legal technology since 1990. For the first time in 2022, SubTech will be held in Asia Pacific. 
THEME
For this edition of SubTech, our conversation will focus on: Training lawyers (and computers) in the age of Computational Law.
Through the lens of this theme, we will explore innovative technologies supporting legal education, law practice, and the societies they serve — with a particular focus on how we can better train tomorrow's lawyers and computers in the age of computational law. We're working on a series of sessions built on the interests of participants who will co-create the content.
FORMAT
SubTech 2022 will be held in a hybrid unconference format, both physically on the SMU campus in Singapore as well as online. To better accommodate our international participants, the conference will also be held at SGT (UTC+8) 5:30pm to 10pm (details to be finalised). 
REGISTRATION
A registration fee of SGD25 (approx. USD20) applies to online participants and a registration fee of SGD135 (approx. USD100) applies to physical participants. Fees are subject to government taxes. 
PROPOSED COLLABORATION WITH CCLAW
Physical participants are required to cover their own travel and accommodation cost. However, should you be able to propose a collaboration with CCLAW (publications, use-cases, etc) that is aligned with our computational law goals, CCLAW may be able to assist with some or all of these expenses if the timelines are synced up. We invite you to submit any proposed collaboration via this form. 
QUERIES
If you have any questions regarding SubTech 2022, please contact our Administrative Support Team at cclaw@smu.edu.sg. 
ABOUT SUBTECH
Every two years since 1990, the SubTech conference brings together scholars, practitioners, and technologists interested in the intersection of technology and legal practice and education (both broadly defined) to venues of Salzburg, Chicago, Paris, Montreal, Stockholm, Cambridge (MA), Warwick (UK), Seattle, Oslo, Williamsburg, Vienna, New York, Zaragoza, Richmond, and Tallinn.

An international multidisciplinary gathering of specialists who work in the confluence of legal education and the technology of law, SubTech is dedicated to distinctively legal applications of information technology, as used or studied in legal education.

By "substantive" we mean technologies of law teaching or practice that involve significant legal content. Artificial intelligence, computer-aided instruction, practice systems, online legal research, and Web-based applications are typical examples. By "legal education" we mean all contexts in which law is studied and taught, not just traditional law schools.
For more information on the history of SubTech, please visit: https://blog.richmond.edu/subtech/?p=243 
Event Date
13 - 15 July 2022
Event Venue
Hybrid. In-person SubTech will be held at the SMU Yong Pung How School of Law